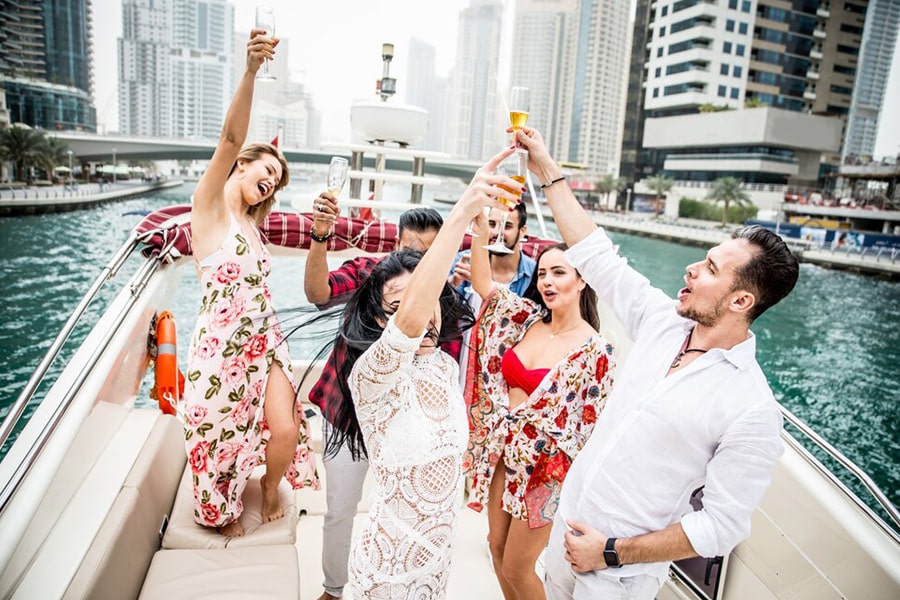 Royal Star Yacht Rental Service Dubai: Embark on a Regal Journey of Luxury and Elegance
EMBARK ON A REGAL JOURNEY OF LUXURY AND ELEGANCE
Welcome to Royal Star Yacht Rental Service, your gateway to a truly extraordinary yachting experience in Dubai. Imagine gliding across the azure waters of the Arabian Gulf, basking in opulence and surrounded by breathtaking views. Our mission is to provide you with an unforgettable voyage, tailored to your desires and crafted with utmost attention to detail. Prepare to indulge in the epitome of luxury and embark on a regal journey that will leave you with cherished memories for years to come.
Why Choose Royal Star Yacht Rental Service in Dubai?
1.1 Unparalleled Fleet of Luxurious Yachts
At Royal Star, we take pride in our remarkable fleet of luxurious yachts that redefine opulence. Each vessel has been carefully selected to provide an unrivaled experience, boasting elegant designs, spacious interiors, and top-of-the-line amenities. Whether you're seeking an intimate cruise for two or a grand celebration with friends and family, we have the perfect yacht to cater to your needs.
1.2 Expert Crew for a Seamless Experience
Our highly trained and professional crew members are dedicated to ensuring your journey is flawless. From the moment you step aboard, our experienced captains, skilled chefs, and attentive staff will cater to your every need, ensuring your comfort, safety, and satisfaction throughout the voyage. Sit back, relax, and allow us to pamper you with unparalleled service.
1.3 Tailored Itineraries for a Personalized Experience
We understand that each guest is unique, and we strive to create personalized itineraries that exceed expectations. Whether you desire a serene sunset cruise, an adventurous fishing excursion, or a vibrant party on the water, our team of experts will work closely with you to curate a bespoke journey tailored to your preferences. Your satisfaction is our utmost priority.
Explore the Stunning Dubai Coastline
Dubai's coastline is renowned for its beauty, and our yacht rental service allows you to explore its wonders in style. Let's dive into some of the remarkable destinations and experiences you can enjoy during your voyage.
2.1 Iconic Palm Jumeirah
Cruise along the iconic Palm Jumeirah, a testament to human ingenuity and a true marvel of engineering. As you glide through the crystal-clear waters, marvel at the luxurious villas and resorts that dot the shoreline, including the world-famous Atlantis, The Palm. This man-made island offers a picturesque backdrop for unforgettable photo opportunities and a glimpse into the lavish lifestyle of Dubai.
2.2 Majestic Burj Al Arab
Prepare to be awestruck by the architectural masterpiece that is the Burj Al Arab. Standing tall as an icon of luxury, this sail-shaped hotel is a sight to behold. As you sail near its magnificent structure, you'll be captivated by its grandeur and the juxtaposition of modernity against the clear blue sky. It's a moment that truly embodies the essence of Dubai's opulence.
2.3 Enchanting Dubai Marina
Dubai Marina, a vibrant waterfront district, offers a mesmerizing blend of modernity and natural beauty. As you navigate the waters, you'll be treated to stunning views of soaring skyscrapers, trendy restaurants, and bustling promenades. Immerse yourself in the lively atmosphere, and witness the harmonious coexistence of architectural brilliance and the tranquility of the sea.
Unleash the Luxury Onboard
Royal Star Yacht Rental Service is dedicated to providing a lavish experience that surpasses all expectations. Prepare to be immersed in unparalleled luxury as you indulge in the following amenities and services:
3.1 Luxurious Interiors
Step into a world of elegance and sophistication as you enter the impeccably designed interiors of our yachts. Each vessel exudes a sense of grandeur, with spacious lounges, stylish cabins, and lavish bathrooms. The attention to detail and the use of high-quality materials create an atmosphere of refined comfort, ensuring that your journey is nothing short of extraordinary.
3.2 Gourmet Dining Delights
Culinary excellence is at the heart of our yacht rental service. Our talented chefs are passionate about creating gastronomic masterpieces that tantalize your taste buds. From delectable seafood delicacies to international flavors, our menus are carefully crafted to cater to your preferences. Savor a delightful meal on the open deck, relishing in the panoramic views as you indulge in a feast fit for royalty.
3.3 Unforgettable Entertainment
Experience pure enjoyment as our yachts are equipped with state-of-the-art entertainment systems. Dance the night away to your favorite tunes, watch a movie under the stars, or simply unwind with soothing melodies as you soak in the ambiance of the Arabian Gulf. Our entertainment options are designed to ensure that every moment on board is filled with joy and relaxation.
Conclusion
In conclusion, Royal Star Yacht Rental Service in Dubai offers a truly majestic and unforgettable experience on the Arabian waters. With our unparalleled fleet of luxurious yachts, professional crew, and tailored itineraries, we strive to provide a journey of opulence and elegance. Explore the stunning Dubai coastline, indulge in the finest amenities, and unlock a world of luxury that will leave you breathless. Book your voyage with Royal Star today and prepare to embark on a regal journey that surpasses all expectations.